Clear Braces New Port Richey & Trinity, FL

What Is ClearCorrect?
ClearCorrect invisible braces are the clear and simple way to straighten your teeth so you can show off your smile! No wires. No brackets.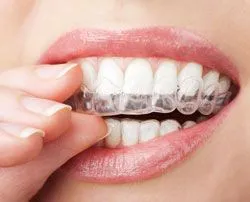 No reason not to smile. Just a series of clear, custom, removable aligners that gradually straighten your teeth as you wear them, each aligner moving your teeth just a little bit at a time.
With Clear Braces , your dentist or orthodontist can straighten your teeth using a series of clear, custom, removable aligners. Each aligner moves your teeth just a little bit at a time until you eventually get straight teeth.
How Does it work?
The process starts with your dentist who takes your impressions, x-rays, and photos, and sends them in with a prescription form. ClearCorrect manufactures your aligners per the precise instructions provided and then sends them back to your dentist.
Is it right for you?
Your lifestyle is important to you and so is your smile. So why should one cost you the other?

With ClearCorrect, it doesn't have to.

Clear Brace s are practically invisible-most people won't even notice you're in treatment It's comfortable-no cuts or scrapes like with braces. It's removable-eat what you want, then brush and floss. It's flexible schedule appointments to fit your life. It's affordable comparable to braces, even less than other t reatment options.
What can it do?
Whether it's minor crowding and spacing or a more severe case of malocclusion and misalignment, clear braces can help you straighten your teeth and achieve your best smile, one aligner at a time.
The choice is clear.
With the results and convenience ClearCorrect offers and the advantages it has over other treatment options, it's an easy decision. With ClearCorrect you can get the obvious benefits and confidence you'll enjoy with straight teeth so you, too, can show off your smile.
Interested in Clear Braces from James C. Lewis, DMD?
Call our New Port Richey / Trinity, FL office at (727) 372-7887!