Posts for tag: partial denture
By James C. Lewis, DMD
June 30, 2018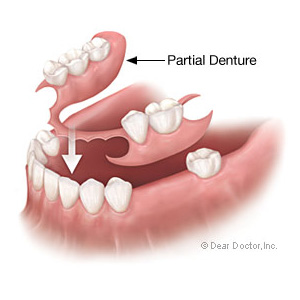 Dental implants are today's preferred choice for replacing missing teeth. They're the closest restoration to natural teeth—but at a price, especially for multiple teeth. If implants are beyond your current financial ability, there's an older, more affordable option: a removable partial denture (RPD).
Similar in concept to a full denture, a RPD replaces one or more missing teeth on a jaw. It usually consists of a lightweight but sturdy metal frame supporting a resin or plastic base (colored pink to mimic gum tissue). Prosthetic (false) teeth are attached to the base at the locations of the missing teeth. Unlike transitional dentures, RPDs are designed to last for many years.
Although simple in concept, RPDs certainly aren't a "one-size-fits-all" option. To achieve long-term success with an RPD we must first consider the number of missing teeth and where they're located in the jaw. This will dictate the type of layout and construction needed to create a custom RPD.
In addition, we'll need to consider the health and condition of your remaining teeth. This can be important to an RPD's design, especially if we intend to use them to support the RPD during wear. Support is a fundamental concern because we want to prevent the RPD from excessively moving in place.
Besides dental support we'll also need to take into account how the jaws function when they bite. The RPD's design should evenly distribute the forces generated when you eat and chew so as not to create undue pressure on the bony ridges of the jaw upon which the RPD rests. Too much pressure could accelerate bone loss in the jaw, a common issue with dentures.
It takes a lot of planning to create a comfortably-fitting RPD with minimal impact on your dental health. But you'll also have to maintain it to ensure lasting durability. You should clean your RPD daily, as well as brush and floss the rest of your teeth to minimize the chances of developing tooth decay or periodontal (gum) disease. You can further discourage disease-causing bacterial growth by removing them at night while you sleep.
A RPD can be a viable alternative to more expensive restorations. And with the right design and proper care it could serve you and your smile for a long time to come.
If you would like more information on removable partial dentures, please contact us or schedule an appointment for a consultation. You can also learn more about this topic by reading the Dear Doctor magazine article "Removable Partial Dentures."
By James C. Lewis, DMD
January 06, 2017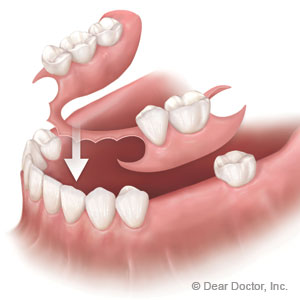 Dentures in one form or another have been around for centuries. Although dental implants have earned a well-deserved prominence of late, the denture still remains a viable tooth replacement option.
What's more, dentures aren't reserved for total tooth loss only. Even if you've lost just a few of your teeth, we can fit you with a removable partial denture (RPD). Although mainly considered a temporary solution for missing teeth, some people depend on an RPD for many years due to finances or other issues.
The traditional RPD consists of a rigid acrylic plastic base that resembles gum tissue supported by a metal framework, with prosthetic (false) teeth precisely placed to fill the space of the missing teeth. They're held in place with metal clasps that extend from the metal framework to fit over the remaining natural teeth.
Although they're an effective restoration, traditional RPDs have a few drawbacks. Some people find them uncomfortable to wear or have an allergy to the acrylic plastic. They also have a propensity to stain from beverages like tea, coffee or wine.
But there's a more recent version called a flexible RPD that addresses these and other concerns. It's made of a pliable nylon that's durable, yet comfortable to wear. Rather than metal clasps, they're secured in place with thin, finger-like nylon extensions that fit into the small, natural depressions in the crowns of the teeth around the gum line.
Flexible RPDs are also highly adaptable to appear life-like in many situations. We can fashion the nylon base to cover areas around natural teeth where the gums may have receded due to gum disease.
They do, however, have a few downsides. Unlike traditional dentures, they're difficult to reline or repair. Like any oral appliance, they can suffer from wear and neglect, so you must properly clean and maintain them. And, like any RPD their best role is as a temporary bridge rather than a permanent restoration.
In the meantime, though, you can count on a flexible RPD to restore your ability to eat and speak proficiently, as well as smile with confidence. It's a great affordable way to address a few missing teeth.
If you would like more information on dentures as a restoration option, please contact us or schedule an appointment for a consultation. You can also learn more about this topic by reading the Dear Doctor magazine article "Flexible Partial Dentures."
By James C. Lewis, DMD
January 10, 2016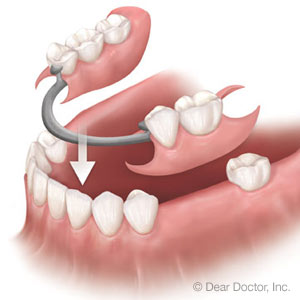 Modern dentistry offers several great ways to permanently replace missing teeth, including high-tech dental implants and traditional fixed bridgework. But sometimes, for one reason or another, it isn't possible to have these treatments done right away. If you need an aesthetic way to temporarily replace missing teeth, a flexible partial denture could be the answer you're looking for.
Certain kinds of removable partial dentures (RPDs) can be used as permanent tooth replacement systems, especially for people who aren't candidates for dental implants or fixed bridges. But in the past, if you needed a temporary tooth replacement, one of the few alternatives was the type of rigid RPD often called a "flipper." This consists of a firm, relatively thick acrylic base that supports one or more lifelike replacement teeth. It attaches to the "necks" of existing natural teeth via metal clasps, which gives it stability and strength.
However, the same rigidity and thickness that gives these rigid RPDs their durability can make them uncomfortable to wear, while the acrylic material they are made of is capable of staining or breaking. Over time, the RPDs are prone to coming loose — and they are also easy to flip in and out with the tongue, which gives them their nickname.
Flexible partial dentures, by contrast, are made of pliable polyamides (nylon-like plastics) that are thin, light and resistant to breakage. Instead of using metal wires to attach to the teeth, flexible RPDs are held securely in place by thin projections of their gum-colored bases, which fit tightly into the natural contours of the gumline. Their elasticity and light weight can make them more comfortable to wear. Plus, besides offering aesthetic replacements for missing teeth, their natural-looking bases can cover areas where gums have receded — making existing teeth look better as well.
All RPDs must be removed regularly for thorough cleaning — but it's especially important for flexible RPD wearers to practice excellent oral hygiene. That's because the projections that hold them in place can also trap food particles and bacteria, which can cause decay. And, like most dentures, RPDs should never be worn overnight. Yet with proper care, flexible RPDs offer an inexpensive and aesthetic way to temporarily replace missing teeth.
If you have questions about removable partial dentures, please contact us or schedule an appointment for a consultation.