Posts for: February, 2020
By James C. Lewis, DMD
February 20, 2020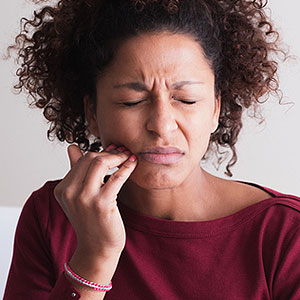 A loose primary ("baby") tooth is often a cause for celebration. A loose permanent tooth, however, is a cause for concern. A permanent tooth shouldn't even wiggle.
If you have a loose tooth, it's likely you have a deeper dental problem. Here are the top underlying causes for loose teeth.
Gum disease. Teeth are held in place by an elastic tissue called the periodontal ligament. But advanced periodontal (gum) disease, a bacterial infection usually caused by film buildup on teeth called dental plaque, can damage the ligament and cause it to detach. If it's not treated, it could lead to tooth loss.
Bite-related trauma. A normal bite helps balance out the forces generated when we chew so they don't damage the teeth. But if a misaligned tooth protrudes higher from the jaw, the opposing tooth will likely create more downward pressure on it while chewing. This can stress the tooth's supporting ligament to the point of looseness.
Self-inflicted trauma. While they may be trendy, tongue jewelry can cause dental damage. A wearer who clicks the "barbell" of a tongue stud against their teeth could be creating conditions conducive for gum damage and bone loss, which can cause tooth looseness. Similarly, taking orthodontics into your own hands could also damage your teeth, especially if you have undiagnosed gum disease.
Genetics. Although you can't prevent it, the type of resistance or susceptibility you inherited from your parents (as well as your dental anatomy) can cause you dental problems. Thinner gum tissues, especially around the roots, can make you more susceptible to gum disease or dental trauma, which in turn could contribute to tooth looseness.
There are things you can do to lessen your chance of loose teeth. Brush and floss every day to remove disease-causing bacterial plaque and see a dentist regularly for cleanings to reduce your risk of gum disease. If you have any misaligned teeth, consult with an orthodontist about possible treatment. And avoid oral jewelry and DIY orthodontics.
If you do notice a loose tooth, see us as soon as possible. We'll need to diagnose the underlying cause and create a treatment plan for it. We may also need to splint the tooth to its neighbors to stabilize it and reduce your risk of losing it permanently.
If you would like more information on tooth mobility, please contact us or schedule an appointment for a consultation. You can also learn more about this topic by reading the Dear Doctor magazine article "When Permanent Teeth Become Loose."
By James C. Lewis, DMD
February 10, 2020

When you're expecting a new baby, there's a lot to prepare: outfitting the nursery, stocking up on diapers or choosing a pediatrician. It's also not too early to consider how to protect your new child's dental development.
From birth through adolescence, a child's mouth goes through a whirlwind of growth. Hopefully, it all follows a normal track, but detours can arise like tooth decay or bite problems.
Here are 4 things you can do to keep your child's dental development on track.
Start oral hygiene before teeth. Daily oral hygiene is essential toward helping your child avoid tooth decay. And don't wait for teeth to come in—begin wiping their gums with a clean, damp cloth right after nursing. When teeth do appear, switch to brushing with just a smear of toothpaste and then add flossing as more teeth come in.
Begin regular dental visits. The American Dental Association recommends pediatric dental visits around the first birthday. The possibility of tooth decay becomes a concern around this time as the primary teeth are steadily erupting. Starting earlier rather than later may also help your child adjust to the routine of dental visits that they'll most likely carry on as they get older.
Control their sugar consumption. Because sugar is a prime food source for disease-causing bacteria, you should keep your child's sugar consumption as controlled as possible. For example, don't put a baby to bed with a bottle filled with a sugary liquid (including juice and breast milk)—the constant presence of the liquid during nap time encourages bacterial growth and acid production.
Get an orthodontic evaluation. While we often associate orthodontic treatment with the teen years, it may be possible to head off bite problems earlier. So, see an orthodontist for a bite evaluation when your child is around age 6. If there are signs of a developing problem, certain techniques could help stop or slow them from getting worse, helping you avoid extensive and expensive treatment later.
With a newborn coming, you and your family have a lot on your plate. Be sure, though, not to forget making plans for keeping their teeth and gums healthy.
If you would like more information on dental care for your child, please contact us or schedule an appointment for a consultation. You can also learn more about this topic by reading the Dear Doctor magazine article "Age One Dental Visit."